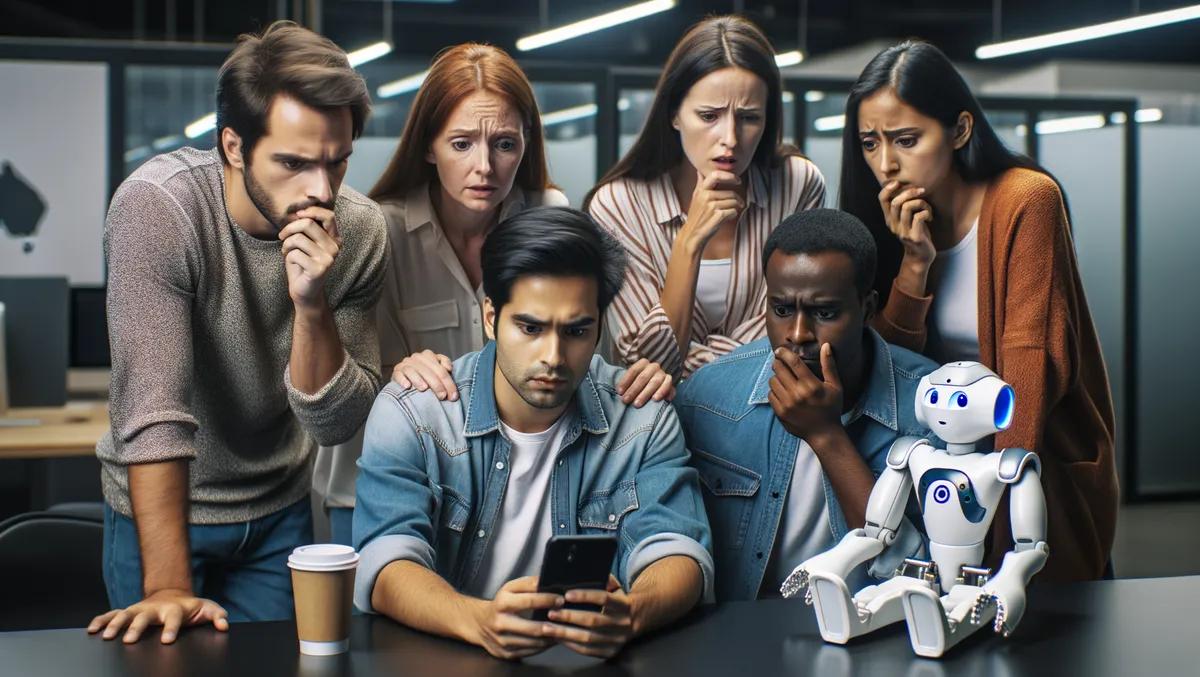 Australians dubious about data security & AI, reveals Versent study
New research by Versent, an Australian technology company, reveals a significant discrepancy between Australian adults' expectations of technology and what companies and the government deliver. The study points to substantial concerns among Australians about data security and highlights a general fear of artificial intelligence (AI).
As part of the research, dubbed 'Great Tech-Spectations', 85% of respondents admitted to being either worried (54%) or very worried (31%) about their data's security. The study reveals alarming perceptions of businesses' diligence in data protection; a mere 16% of respondents believed companies are doing enough to safeguard customer data. Perceived reasons varied among respondents, attributing lack of adequate data protection to companies' unwillingness to spend money (69%), viewing data protection as non-priority (49%), lack of care (43%) or lack of knowledge (28%).
The study also shed light on Australians' discomfort with AI, with 42% of adults feeling 'concerned' and 11% 'terrified'. On the other hand, 37% expressed 'interest' and 27% remained 'open-minded'. The trust factor plays a crucial role here, with many Australians saying low or no trust in the government (44%) and companies (45%) using AI appropriately.
Kate Wellard, Chief Marketing Officer at Versent, said: "Australians are highly comfortable with tech, but we also have high expectations that aren't always considered and addressed."
"AI is a prime example, with 8.5 million adult Australians feeling apprehensive and more than 2.2 million expressing terror. Businesses may want to review their communication strategies and ensure they bring their customers and employees along on their journey."
The research also highlighted issues at workplaces, with less than half of the employees feeling their tech is fit for purpose (46%), convenient (45%) or aids them in doing their jobs effectively (47%). The average tech satisfaction rating across SMEs, medium and large companies, and the public sector were disappointingly low, indicating room for improvement.
In evaluating the public's perception of the tech used by various industry sectors, the banking and home entertainment sectors scored the highest, with a modest 7.4 out of 10. In contrast, the government and health sectors lagged at 6.5.
Versent's study also cast doubt on the validity of age-based stereotypes in tech perceptions. Wellard said: "When we analysed the data, we found generations are more alike than they are different."
"It's attitudes, not age, that determine people's perceptions and preferences. Among the group who feel left behind and excluded, 30% are from Gen Z. Meanwhile, 11% of Baby Boomers identify as technology 'enthusiasts'."
Other key findings include a preference among Australians for accessing information and connections provided by tech. One in five Australians welcomed the opportunity technology offers to complete tasks without interacting with others. Concerns about 'companies knowing too much about me' were considerably higher (47%) than similar worries about the government (36%). Personalised ads found favour with just one in five, while only one in ten liked that their favourite brands maintained contact.