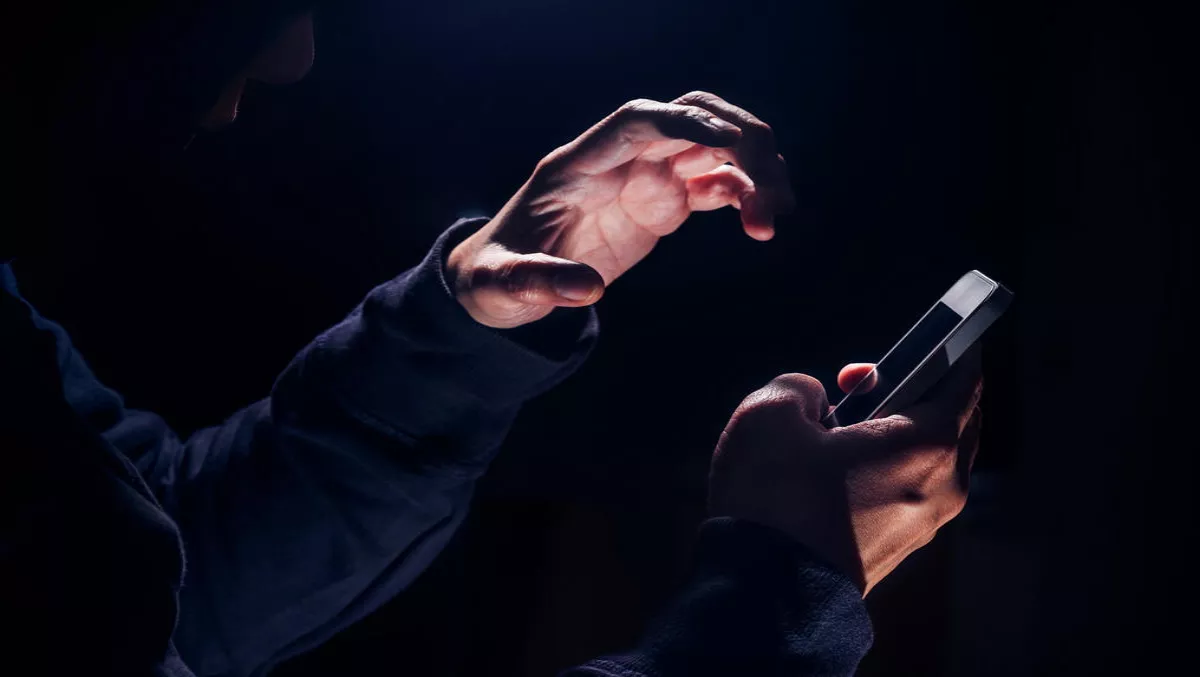 Smartphones are the new battleground for ID theft as hackers hone their craft
FYI, this story is more than a year old
The release of the first iPhone back in 2007 was a historical moment. Smartphones started out as a mobile device that allowed owners to access the internet and play music and has now transformed into a device that people can manage finances, tackle work emails, and store high quality photographs. The power of technology is awesome, yet it is important to understand that as this power continues to progress, people must make the tough decision between convenience and security.
According to a recent report by Ernst and Young, Australians have been rated among the highest users of mobile phones in the world, with about 88 percent using a smartphone. With such a high number of people relying on these devices to get through day-to-day activities it is important to understand the risks that also come with smartphones.
The dark web is where criminals are selling illegal information and working together to pull off illegal heists on a global level. In the digital world of today, no Australians are safe. As hackers get smarter, society must try and stay one step ahead and anticipate where the next battleground will be for cyber-crime. It's important to understand the information that is at risk, how hackers are getting that information, and what people can do to prevent identity theft from happening.
The information they want
The world has begun to digitalise all information that has personal data on it. This move has opened the door for hackers and cyber criminals to gain access and exploit this information for financial gain. Last year in Australia alone $3,940,901 was lost from identity theft, and that was only the incidents that were reported. What is more shocking, is that cyber criminals are now finding that they can get more money financially by selling personal information on the dark web.
Credit card information including security codes will sell for anywhere between $3 and $25 however, a "Fullz", which is scammer slang for personal information, could sell for anywhere between $25 to $125. The things people love about smartphones that most take for granted, such as photographs, fingerprint access, bank apps, and work emails are the very thing hackers are looking to exploit and sell across the dark web. The process in which they are carrying these attacks are not as complex as most victims imagine.
How hackers hack
The process of identity theft has changed very little over the last ten years. The basic premise, is that criminals steal personal information about victims and benefit from that financially. Hackers have simply evolved from the days of stealing personal mail from the letterbox to stealing information from a credit card.
To combat this, all banks in Australia moved to a chip and pin service offering more security, yet once the convenient "Tap - Go" service was introduced criminals were able to exploit vulnerabilities within the technology that intercepted the RFID signals in the cards, giving them access to the victim's finances. Once this "Tap - Go" technology was introduced to smartphones in the form of an NFC signal, hackers could access all the information that victims stored on their smartphones.
By simply downloading a nefarious app or a hacker using the NFC signal to upload malicious code a smartphone can be tricked into backing up all the personal information stored on the phone and sending it to the cyber-criminal to distribute online as he or she wants. Smartphones is the new battleground for identity theft.
Bringing the fight to the crooks
Many people have found short-cuts on how to prevent credit cards from being skimmed. These passive methods, like wrapping your cards in aluminium foil might work at times, but the problem with passive systems is all it takes is a hole in the defence the size of a pin prick to bring down the whole system. Luckily, technology has been developed to protect smartphones and credit cards using micro jamming technology found in devices such as Armourcard and Armourcell to actively repel attacks.
Technology has now been designed and patented that allows a small device to inconspicuously stick on the back of a smartphone and emit a jamming signal that forms a force field around the mobile phone. This force field actively jams NFC and RFID signals from linking with smartphones protecting users from potentially dangerous hackers. When the time comes where the user wished to make a purchase using the NFC feature, the jamming signal can be temporarily disarmed allowing for people to capitalise on the convenience of "Tap - Pay' on their smartphone.
Having a battle strategy
As hackers look for the next best way to make a dollar on the dark web, identity theft will continue to be a nuisance to society. It is important for people to understand that as technology advances there must be a balance between security and convenience. There is plenty of information at risk stored remotely on a smartphone that criminals can use basic attacks to gain access to. It is imperative to take steps to prevent personal information from becoming available on the dark web. As the battleground takes on the smartphone platform users must actively protect themselves.