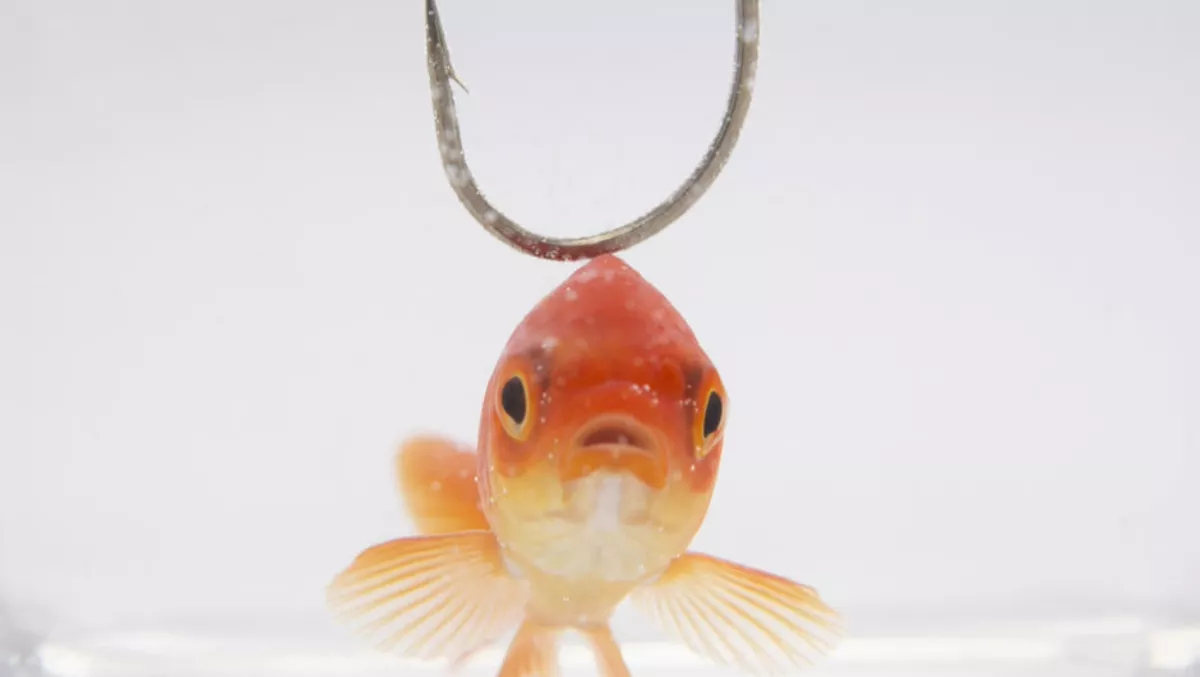 Sink or swim: How your organisation can avoid phishing scams
Wed, 4th Apr 2018
FYI, this story is more than a year old
It's a fish-eat-fish world out there, no matter what industry you work in; everyone is trying to get ahead. Australians tend to work longer hours than most other OECD (Organisation for Economic Co-Operation and Development) countries, and we are all just trying to stay afloat.
But with longer hours comes wearier brains, and a workforce more susceptible to being victimised by scammers. By scanning emails in the pursuit of productivity, employees may be less likely to spot a phishing email.
At any level of an organisation, employees engaging with phishing scams can pose a risk to network security. What's more, the scams often get more complex as they move up the organisational ladder, making the stakes that much higher. Here's what to look out for when it comes to phishing scams so you don't get caught.
Beginner phishing
Like someone learning to fish, phishing, or deceptive phishing scams tend to be simplistic in their nature. Often designed to look as though they have come from a reputable source – such as a bank – these scams come with a request for information, and either a link to click or attachment to be opened.
Typically, these scams will have a generic greeting, rather than something more personalised, and will often be dramatised e.g. include a call to action with 'immediate' need to address. Not specific to the working world, generic phishing scams can be aimed at anyone, though they can pose significant risk to an organisational network. Phishing scams can open up a network to vulnerabilities, as many potentially contain malware that can impact an organisation's system.
How to avoid getting hooked?
Some simple ways to counteract deceptive phishing scams can include:
Directly accessing relevant websites via the search bar rather than clicking any links
Checking that the hyperlink includes an S (https instead of http)
Keep an eye out for excessive punctuation e.g. exclamation points – banks probably aren't that excited that a customer might be overdrawn on their account
Educating employees of all levels on how to identify and avoid scams
Spearphishing
The next tier of phishing scams – spearphishing emails – are more targeted, and typically appear to be sent from within an organisation, giving the impression that there is some kind of relationship with the sender. Often, spearphishing emails may include more personalised information for the recipient, such as employment information like an employer name or job title.
Spearphishing scams require more effort than generic phishing emails. Victims are often researched – either as an individual or as an employee of a particular company – in order to craft an email that someone might legitimately receive and take action on.
How to secure your business from spearphishing?
Secure social media accounts and email addresses to restrict information that can be exploited by hackers
Set social media profiles to provide
Limit the amount of information provided in the public privacy setting (e.g. workplace, birthday, family members, etc.)
Whaling
As the name of this style of scam might suggest, whaling emails are typically targeted towards bigger prey: C-suite management. The practice of whaling emails involves targeting C-level management and baiting them into responding, providing both an email address and potentially other relevant information – such as an email signature – that will enable the scammer to pose as management and look more credible when spearphishing.
These scams may involve requests to authorise transactions, confirming sensitive business information, or even potentially giving management-level orders.
How to prevent whaling attacks?
Install firewalls and antivirus software to organisational devices
Educate employees to be aware of what they click (or don't click)
Type URLs into the browser and scan the webpage to check legitimacy
Technology is increasingly becoming more sophisticated, as are hackers, but this doesn't mean that organisations can't also be just as sophisticated when it comes to weeding out scams from legitimate emails. Technological protections, education and keeping up to date with the latest scams, and raising awareness to your colleagues are the best defences to make sure you don't get hooked.