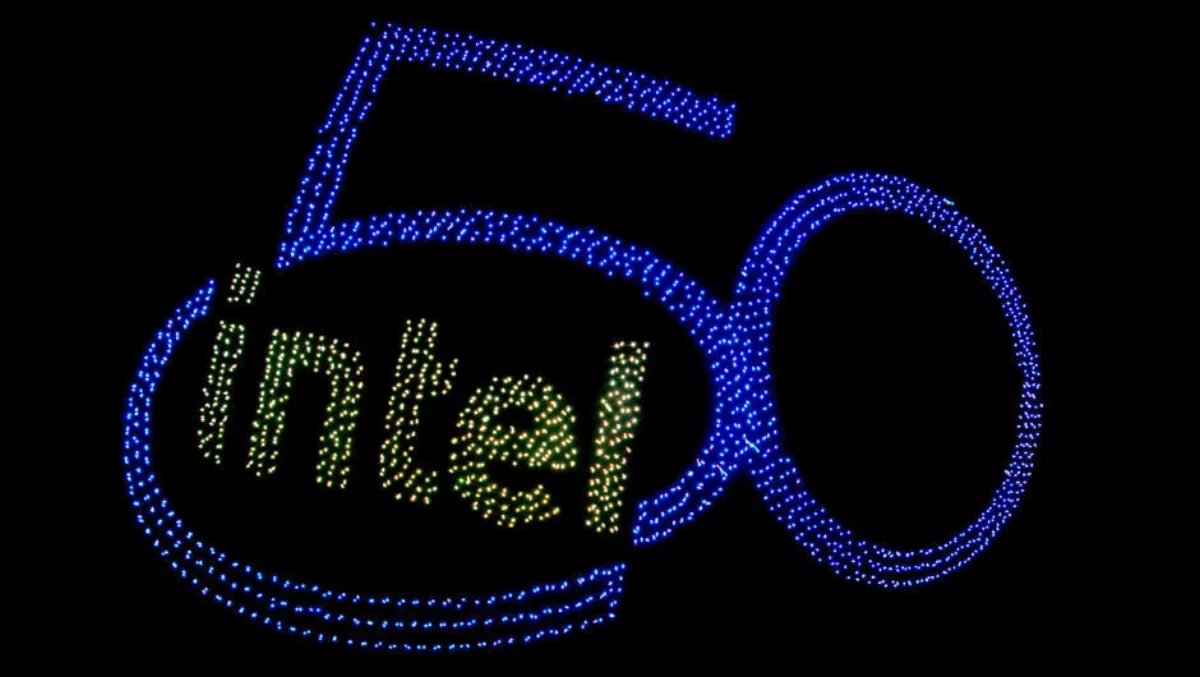 Intel celebrates its 50th anniversary with promises, drones, and bell-rings
FYI, this story is more than a year old
It's Intel's 50th birthday and the company has wasted no time looking to the future – and back on the past of computing history.
Intel chief engineering officer Murthy Renduchintala says in a blog post that since 1968, Intel has impacted a progression of tech waves, including the PC, internet and cloud.
"We stand now at the starting line of a new and even more profound digital transformation where virtually every activity will interact with computing.
From always-learning algorithms to blockchain fraud prevention, computers will work invisibly across devices, networks, and cloud data centers to service people, he says.
Intel states it will continue to drive breakthroughs in five key areas, including innovation, advanced architectures, packaging, new computing models, and security.
"All of this requires commitment to long-term strategies and sustained investment in people and innovation platforms," Renduchintala comments.
At Intel, we have acquired innovative companies but we have also increased our research and development spending. Last year, Intel accounted for over one-third of the world's semiconductor R-D, or $13 billion, to ensure that we are in a position with the right people and the right technology to lead in this future.
Innovative technologies
These will be formed by mixing and matching to form something new, Intel believes.
"One new pervasive area of technology where we are investing is computer vision – from graphic processing units and vision processing units to domain-specific integrated platforms like Mobileye.
Renduchintala notes that advanced computer vision, as well as sensing technologies and software, will enable more natural human-computer interactions.
The company will continue to invest in CPUs, fast memory, and 5G.
Advanced architectures and ecosystem
Renduchintala explains that artificial intelligence will transform almost all data-rich processes in the next 10 years.
"We are inventing technologies and open software tools that will advance the nascent AI ecosystem, making it possible to gain insight, anticipate needs and continuously learn from data at enterprise scale. This includes new neural network processors, customizable FPGAs in the cloud and embedding AI technologies into existing platforms.
He notes that Intel and Google have worked on deep learning performance projects that have resulted in more than 100 times performance gains.
Packaging in new dimensions
This involves heterogenous integration of computing, memory, and communications.
We will connect and stack diverse technologies in tiny footprints tuned for specific power envelopes, providing unique cost and performance characteristics with much greater flexibility.
One processor we are developing connects "chiplets" built in different manufacturing processes using new 2D and 3D assembly techniques to deliver powerful PC performance with the energy usage of an ultra-efficient mobile device.
"Imagine the possibilities as we combine into the most efficient of packages the more diverse capabilities – even data center-class technologies – once miles apart in computing terms or based on incompatible processes.
New computing models
Quantum computing and its ability to tackle complex problems with seemingly infinite variables is a promising technology. Neuromorphic technology that mimics neurons could also bring computing towards a new model of adaptable, always-on and efficient computing to the edge, Renduchintala says.
"Intel Labs is working with academic partners around the world to look over the horizon and rethink computing itself.
The future is in security
Intel's security-first pledge is being developed through deeper collaboration to identify and address vulnerabilities in increasingly complex technologies.
"And we are engaged in industry and academic initiatives like the RISE program at the University of California, Berkeley on new frameworks and technologies to help protect millions of connected people and things relying on assistive technologies and software.
The celebrations continue
Intel's interim chief executive officer and current chief financial officer Bob Swan opened trading on the Nasdaq Stock Market. After a ten-second countdown, the Nasdaq bell ring was followed by the trademark Intel jingle.
"We're only just beginning to explore the impact that technologies like autonomous driving, artificial intelligence and quantum computing can have," Swan says.
"And over the next several decades, we'll create computing platforms that make the world a better place — from safer and smarter models of mobility to the eradication of disease.
Intel also took its celebrations to the sky. It released 2018 Intel Shooting Star drones over its California facility. The company set a new Guinness World Record for the most unmanned aerial vehicles airborne simultaneously.