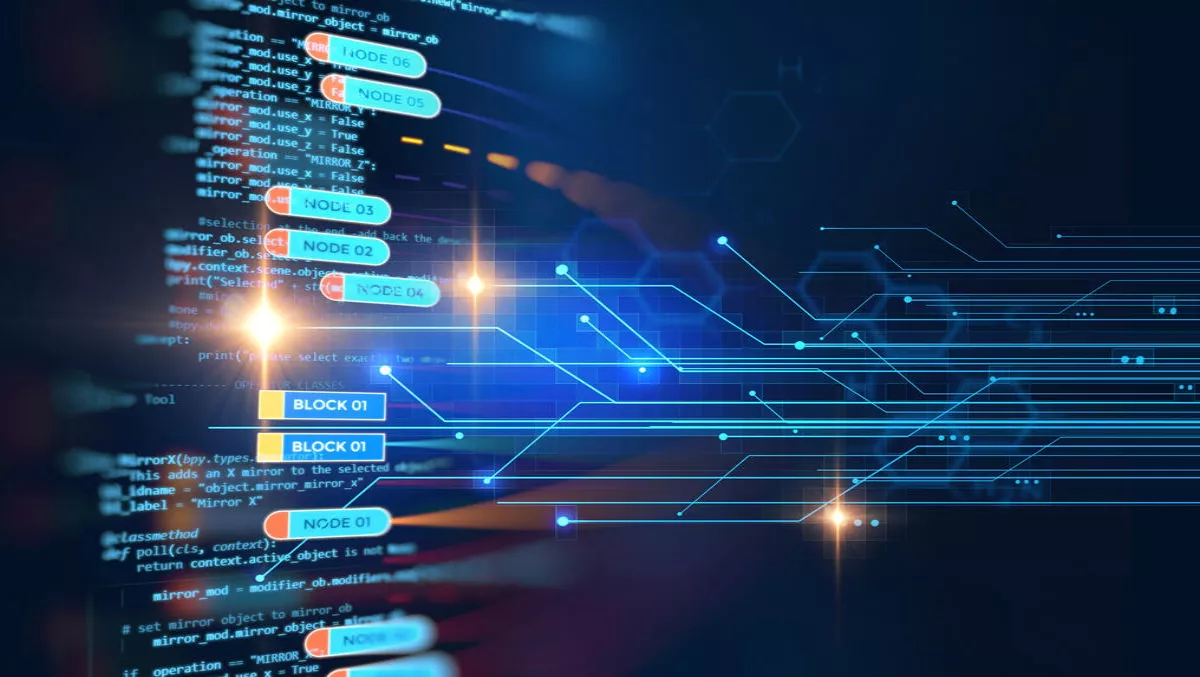 How blockchain & design thinking can help us overcome the absence of a national digital identity system
Tue, 12th Dec 2017
FYI, this story is more than a year old
We've all heard the extraordinary hype around Blockchain and its possible applications through its evolution since being invented for the digital currency, Bitcoin in 2008. Don - Alex Tapscott, authors Blockchain Revolution, describe it as, "an incorruptible digital ledger of economic transactions that can be programmed to record not just financial transactions, but virtually everything of value.
By allowing digital information to be distributed but not copied, Blockchain technology is like the internet in that it has a built-in robustness. The tech community is now finding other potential uses for the technology and I am fascinated to see how Australian organisations will use it to use digital information in a transparent and incorruptible way.
Let's just be clear though; Blockchain is not going to be the one piece of technology that will be the panacea to solve every problem and challenge that exists today. What it can enable us to do is to take advantage of new technology as it becomes available and it has the potential to disrupt countless industries and create new experiences for customers.
Lots of industries are already using Blockchain, primarily the financial services sector, mostly driven by the fintech firms and the big banks. In fact, it has helped to increase the security of the global payments system, as it guarantees the validity of a transaction by not only recording it on a main register, but on a connected distributed system of registers, all of which are linked through a secure validation mechanism.
It is already in use in governments, supply chains, asset management and cybersecurity, but it still has a long way to go to become a commercial reality for many enterprise organisations.
What's changed?
It's now possible to create cool ecosystems based around the use of Blockchain, which allows organisations to change the way they operate. The advancement around open systems in some geographies is allowing them to manage and manipulate their data much better, enabling astute brands to be smarter about what they do with advanced analytics, enhancing their customer segmentation capabilities.
If you look at the evolution of the mobile phone since it became commonplace in the workplace in the early 1990s. What has initiated the revolutionary change in how we live, work and rely on our mobile devices and has made mobility a reality is the compute power of today's smartphones. What's funny is that their processing power probably exceeds what most business computers were capable of back then.
Companies can now glean vast amounts of qualitative data about their customers, using their mobile phone, to differentiate their approach. What they offered their customers three, six or even twelve months ago has completely changed and it's only going to get tougher to innovate. Brands that stand still in terms of their offerings are going to get into trouble.
Two guys with the same demographics - similar age, with two kids, comparable earnings, living on the same street - are targeted by some brands as being the same. However, they are likely to have very different interests, tastes, beliefs, commutes and preferences – these are their "unknowns".
The more astute fintech brands have been able to link customers' data gathered from their social media accounts, their mobile devices and the apps they use. As well as the basic demographics social media gives them, these brands are also able to uncover much richer data, like their customers' weekly activities, footprint, behaviours, preferences and moods to find out what really makes them tick and how to build a real connection with them.
Are the big banks being left behind?
The problem the big Australian banks face with Blockchain is that it stretches beyond operational level change by recommending new business models that would disrupt traditional banking operations. This requires open bank frameworks as seen internationally, that our banks have so far resisted. Open banking would make account portability and peer to peer payments a lot simpler. The banks really need to figure out where they sit in this brave new world and what value they can provide their customers to retain them.
The ecosystem-wide point of view - digital ID
We understand that the key premise of the Blockchain is the connection in a trusted ecosystem – however the wider the ecosystem; the more impact and the greater the risk of the unknown.
In Asia for example, most countries have a government controlled ID system in use. Using this already regulated connected ecosystem and the drive to have a more open banking system constructed, Asia has been able to drive the change in their ecosystem around the use of Blockchain to leverage what it can offer in such a connected society. They have now implemented successful Blockchain ecosystems on the back of their regulated Digital ID and have significantly more open bank frameworks than we have here.
There has been resistance to the Federal Government's National Digital Identity Card in Australia for many years due to privacy concerns. However, the first step has been taken in and that was to introduce digital driver's licences, which are now being made available to verify ID via smartphones.
The Digital Transformation Office in Australia is creating a trusted digital identity framework, which is a pre-cursor to advancement of a centralised digital identity solution. Once this harmonised national digital identity system is implemented it will dramatically improve online services across not only the public sector, but services delivered online by the private sector too.
While privacy remains the key issue in any digital ID conversation, it's surprising that there is still so much debate and concern, given the amount of personal information that can be sourced via everyone's smartphones today.
The discussion about identity in the era of internet and smartphones has moved on, but given we are still some years away from adopting a Digital ID system in Australia, we need to find another way to uncover the unknowns. This is why when using Blockchain to develop solutions for customers, Design Thinking is incredibly valuable.
Design thinking walks you through these unknowns
The absence of a regulated digital ID card in Australia creates a variety of unknowns about the preferences of real people that Design Thinking can help organisations to address.
This approach can help them to understand the human needs behind the product or service and to develop a better experience. Where Design Thinking comes into Blockchain is to offer an agile way of achieving a planned outcome by walking you through all the unknowns during a workshop.
Design thinking is not just about brainstorming though; it's also about identifying what to brainstorm about. Using blockchain thinking, business leaders can learn to take an intelligent approach to brainstorming about their business.
So, in this part of the world it's clear that we can't create Blockchain ecosystems without Design Thinking thought processes. The design thinking approach offers clarity and enables organisations to state what the outcomes will be, delivering early value and the ability to explain the benefit of a solution to the key stakeholders before any significant investment in the final product has even been made.