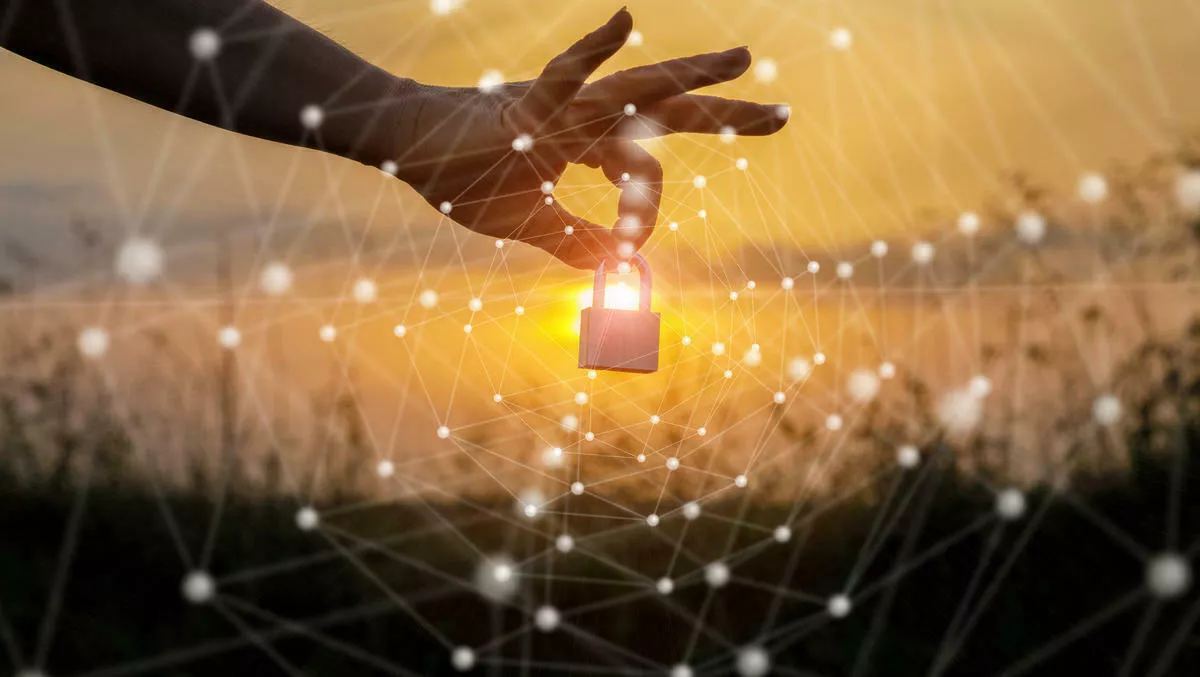 Hands-on review: ESET Endpoint Protection Advanced Cloud
FYI, this story is more than a year old
Endpoint security is one of many facets of an overall cybersecurity plan that businesses need to consider. But endpoint security is an umbrella of different considerations in itself: cloud, file servers, disks, or endpoint devices such as laptops.
ESET Endpoint Protection Advanced Cloud is an umbrella of security for business users that integrates the most essential endpoint products.
Why is endpoint security important?
Ransomware, fileless malware and targeted attacks tend to infect an endpoint such as a user's device or server, before moving on to an entire network. Fileless malware is particularly nasty because it can sit in a computer's memory and is almost undetectable to file scanning solutions.
ESET Endpoint Protection Advanced Cloud centralises endpoint security into a console that provides cloud-based remote management, and protection from attacks such as what we've described above.
There are two overarching security solutions within ESET Endpoint Protection Advanced Cloud. These are endpoint security solutions and server security solutions. Both endpoint and server security solutions are manageable through ESET Cloud Administrator.
ESET Cloud Administrator – the central hub for security management
This is a web-based console that is the central point for remotely managing all ESET products an organisation uses for its endpoint security. It has the advantage of bringing endpoint security management into one place.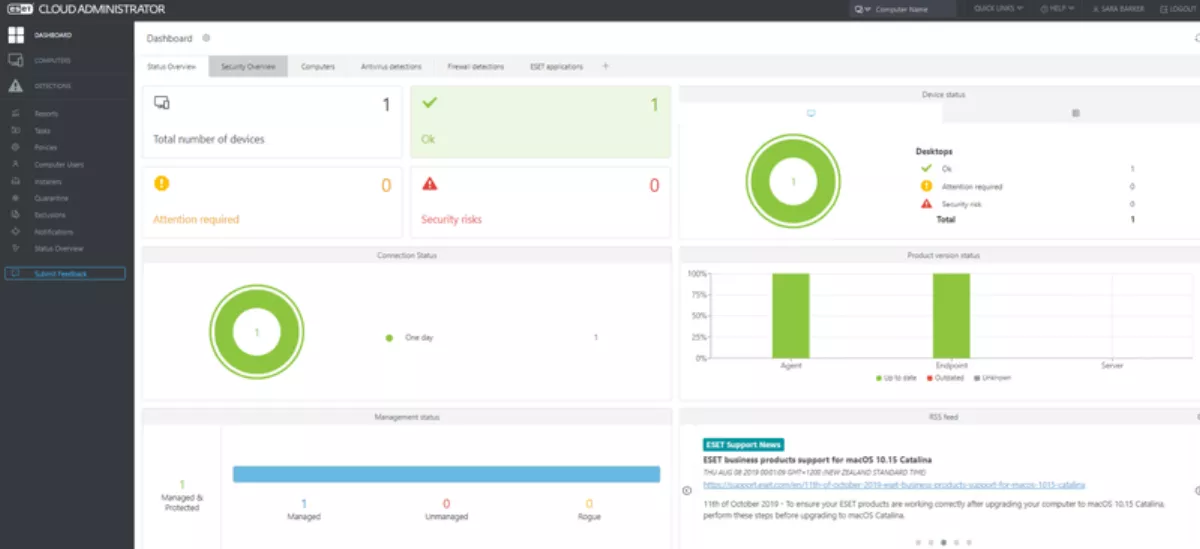 It's easy to set up – after adding the license key to your ESET Business Account, you will see the option to activate Cloud Administrator. After setup, it immediately suggests using two-factor authentication as a means of securing user accounts – two-factor authentication is a powerful way to add another layer of protection, so I recommend that users take advantage of it.
Cloud Administrator then begins the process of helping you download and activate ESET products on user devices.
Cloud Administrator also offers ability to create static groups based on user needs, a list of quarantined files, a hardware inventory that displays data about hardware on endpoints on the network, policy and report creation, client and server task setup, and one-click actions for easier product management.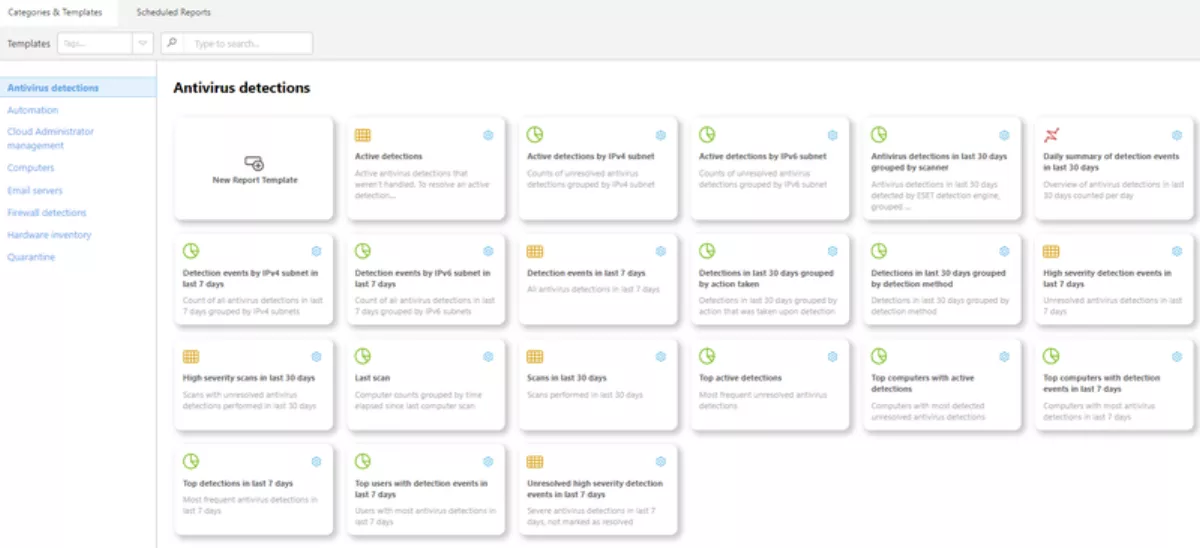 What's more, it updates automatically and there's no need for extra hardware. The console is both simple and easy to follow, which makes endpoint security management a breeze.
ESET Cloud Administrator supports several ESET products, including most of the solutions in Endpoint Protection Advanced Cloud. Let's take a look at those solutions.
Endpoint security
ESET Endpoint Protection Advanced Cloud includes bundled products including ESET Endpoint Security for Windows and Mac, as well as ESET Endpoint Antivirus for Windows and Mac.
Both of these are manageable through ESET Cloud Administrator, wherein you can create policies, enable the ESET LiveGrid feedback system (a live threat detection system that analyses 100 million sensors for suspicious objects and then creates protection against them), and choose whether or not administrators define protection settings, or whether end users can choose these options themselves.
ESET Endpoint Security is designed to be a user-friendly application that most people should understand. It's non-intrusive, and offers everything an endpoint security product should, such as customisable scans and advanced detection methods. This should be the definitive
To install other ESET endpoint security products, simply select 'Installers' from the panel on the left-hand side of Cloud Administrator, select 'create installer' and repeat the install process as necessary.
ESET Endpoint Protection Advanced Cloud also includes products that aren't manageable through ESET Cloud Administrator. These are:
ESET NOD32 Antivirus Business Edition for Linux
ESET Endpoint Security for Android
ESET Mobile Device Management for Apple iOS
Server security
ESET File Security is an advanced protection solution that protects network file storage, general servers, and multi-purpose servers from threats such as ransomware, fileless attacks, targeted attacks, and data breaches.
ESET Endpoint Protection Advanced Cloud includes:
ESET File Security for Microsoft Windows Server, which is manageable through ESET Cloud Administrator
Enhanced add-ons for those who want more protection
ESET Full Disk Encryption enables organisations to remotely monitor encryption on user machines, protect company data, and comply with data protection regulations such as GDPR.
Pricing
ESET Endpoint Protection Advanced Cloud is available as a free 30-day trial for users with an ESET Business Account, so you can try before you buy.
Businesses can purchase protection for five business devices for AU$322.85 per year.
Learn more about ESET Endpoint Protection Advanced Cloud and request your trial here.