Partner content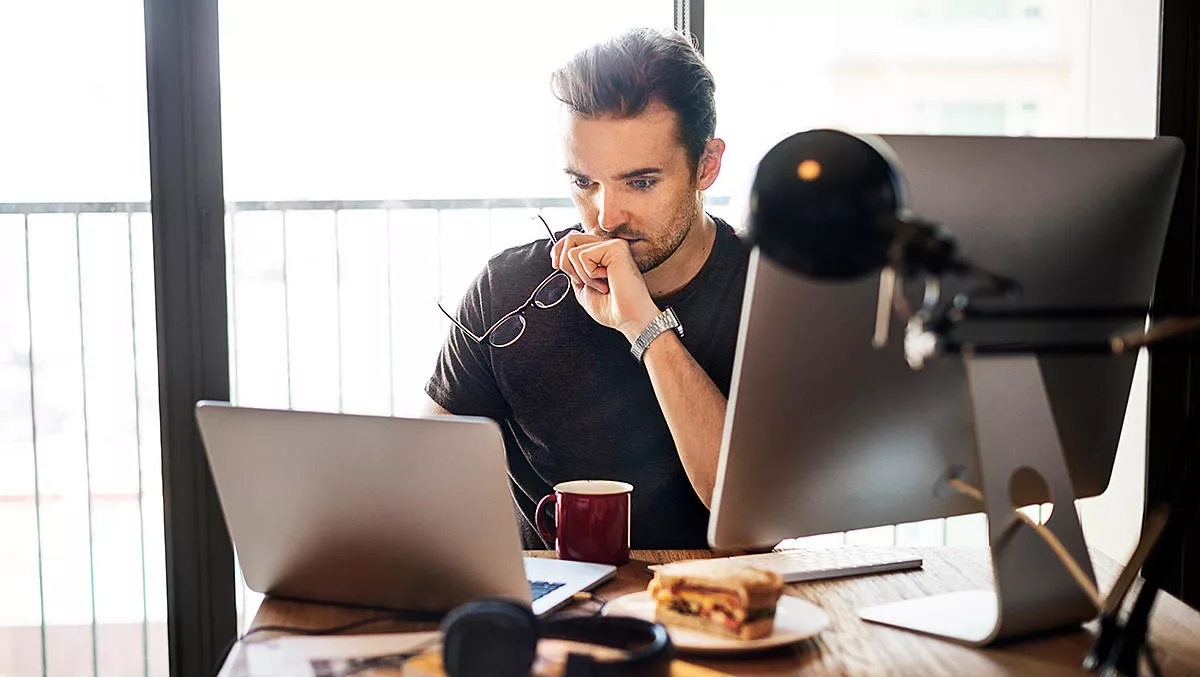 Interview: RSA explains security in the epoch of IT disruption
FYI, this story is more than a year old
We're in the ultimate remote working experiment, where cybersecurity extends beyond the office and into employees' homes. These homes are generally less secure than anything in an enterprise office environment.
To understand how cybersecurity fits into this new world, we spoke to RSA Asia Pacific & Japan's identity sales strategist Craig Dore.
Dore has been with RSA for 20 of his 25 years in cybersecurity and in his words, he has seen it all. To that note, we discussed cybersecurity in terms of how it fits into business continuity, as well as the threat landscape, and what RSA is currently doing to assist businesses that need protection.
Business 'as usual' in times of disruption
Dore says it's much easier for an organisation to say that it's ready for disruption than to find itself in that very situation.
He suggests that businesses should take a minimum three-month view to building a business continuity and disaster recovery plan.
"Ensure the conversation is flowing and is comprehensive – include stakeholders from every business or division in your employ. Focus on the most critical aspects first, and then move on to the next. Iterate. This is a planning process that must serve today and tomorrow because the current business disruption will be a lot longer lasting than people realise. Everyone should be clear on what you're doing and what you're going to do next," he says.
"Also, we're seeing a great amount of overreaction, where normal processes are skipped over in favour of urgency. Resist this where possible. A great example is where an organisation panic-purchased some software and forgot to load the licences. After 24 hours, they were dead in the water and wasted time and effort trying to determine where they had gone wrong."
Cybersecurity – the key to readiness
"One aspect that is very clear in context of the current global disruption – cybersecurity and disaster response are nearly identical in the terms we use to describe our readiness! Protect – Detect – Respond. That's what cybersecurity aims to do holistically. In disaster response, you need to do those things with special emphasis on Respond (and respond urgently), be it flood, famine or fire."
Dore says that organisations should not aim for cybersecurity perfection, they should aim for action – i.e. response. This applies to all business-critical resources, users, and processes. Start with the application and environment, as well as identity and access.
"Even small actions like ensuring your teams have enough VPN licences or reviewing whether your budget can sustain new investments are things that can contribute to your readiness."
All these actions are to prevent organisations from cyber threats, such as so-called 'spray and pray' attacks that try to exploit people who are distracted or not cyber savvy.
"Please consider your communication plan – ensuring that your employees know what to expect if they've never worked from home before. Ensure that users are reminded of how to check if a link is safe even if they receive it from someone they know or do business with, such as Google's Safe Browsing site status tool."
He adds that organisations should also ensure their monitoring tools are able to:
• Detect: Availability of alerting to detect repeated (and failed) login attempts
• Respond: Ability to automatically lock an account for a short period of time to thwart so-called "brute force" attacks. Watch out – the system should automatically unlock the account after a period of time. This prevents the "Denial of Service" that emerges from an attacker simply locking out legitimate users.
• Protect: Use strong authentication (MFA). Don't make assumptions on vendor capabilities without asking the vendor.
How to thrive amid disruption
A disaster never rings you up to make an appointment. Preparedness is what separates organisations that can cope with disruption from organisations that can't cope. After all, you can't manage what you can't see, says Dore.
"Having the right tools in place that can encourage collaboration is the best starting point in any evolution towards increased resiliency. People make decisions, technology doesn't. It's critical to have the required data readily available, and a process in place that ensures the information is relevant, timely and accurate."
"If identity management is on the books for your organisation – it doesn't need to be a sweeping comprehensive identity and access management (IAM) platform that covers everyone.
Focus on the critical applications, business processes and users first. Be tactical about these things or one will never be finished."
RSA supports organisations in times of uncertainty
RSA is well-prepared to provide business-driven security solutions to critical risks associated with the integration of digital technologies. Expertise includes integrated risk management, threat detection and response, identity and access management, and fraud prevention.
Dore says that the company helps organisations understand their risk posture, with the support of an all-of-business collaboration tool, called RSA Archer, that allows organisations to manage any type of risk, such as 3rd-party risk, business resiliency risk, compliance risk, and IT risk.
"This helps to drive collective insights upwards to the board and auditors and downwards throughout the organisation. The need for this type of collaborative approach has never been greater in the context of the disruptions we are seeing today."
He adds that security and accessibility must go hand in hand to provide secure services online.
"This is something to care about in the current climate between simple remote working and more importantly, being able to confidently broaden your business," says Dore.
RSA delivers accessibility and security to enterprise customers as well as consumer banks globally and within Australia. RSA SecurID and RSA's cloud service aims to keep organisations' data secure and remaining non-intrusive when employees do their work.
"We do this by combining easy access methods such as TouchID with a hidden and powerful behavioural analysis system that can see suspicious behaviour and react to it automatically."
Dore adds that technologies such as Fast Identity Online (FIDO) are growing fast in environments that serve customers. RSA recognises the importance of such technologies, which is why it both supports and sells FIDO. The company is also chair of the FIDO Enterprise Working Group.
There's change ahead for the IT industry
Dore believes the change in the IT industry will affect everything from supply chains to eCommerce, physical goods distribution and beyond.
"We will see a lot more emphasis placed on collaboration tools, perhaps even VR in the workplace. Adoption of cloud services, with its inherent scalability and availability advantages, is going to be more pervasive. Security underpins all of it. If we're rarely face-to-face, proving who we are is going to be one of the most critical components of our future world," he says.
"Organisations that may be in some digital transformation journey are now having that aspiration foisted on them overnight. In the coming years, if a business can't operate in a decentralised manner and provide their services with agility and security, they will not survive."
RSA can support your business in times of uncertainty – Sign up for a Free MFA promotion or contact RSA for more effective security measures, and to join its upcoming webinars in the Business Continuity series.
Related stories
Top stories