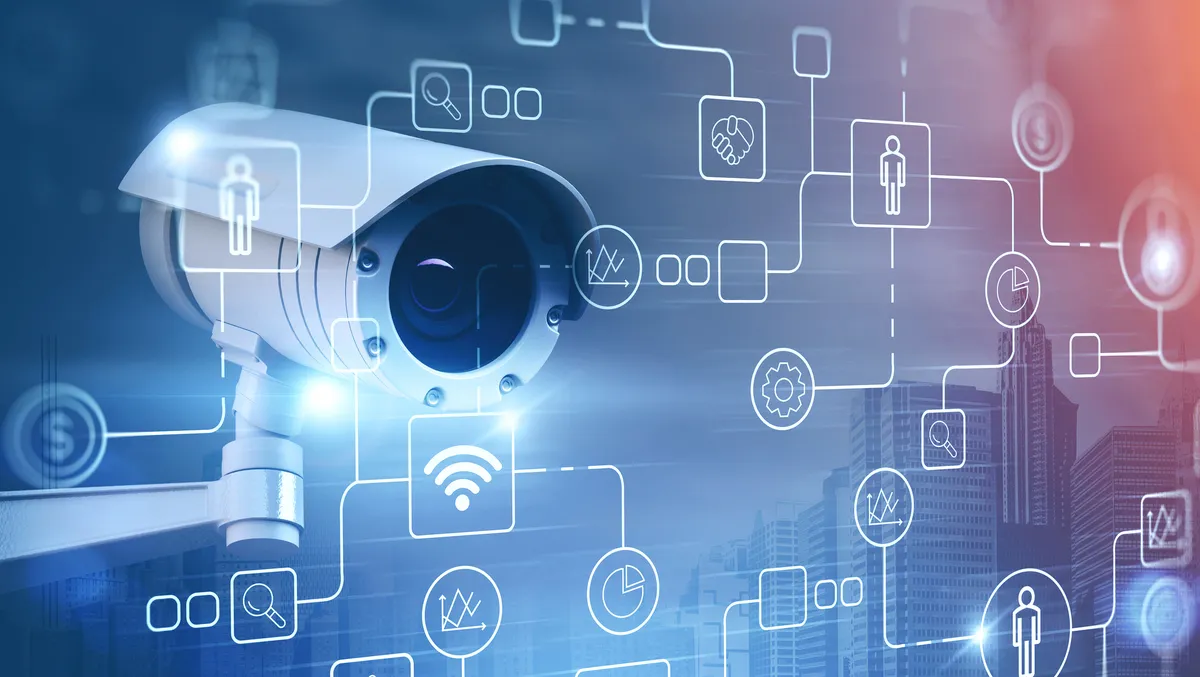 AI cameras are the future
Tue, 25th Oct 2022
FYI, this story is more than a year old
Since the very first video images were recorded some eighty years ago, surveillance cameras have continued to evolve, as has the associated technology that makes them function. Moving from analogue to IP-connected cameras, introducing functions such as WDR and PTZ, then making an ever-wider variety of devices to suit a constantly-evolving range of needs – camera technology is never still.
The next phase of this evolutionary path is the move to Artificial Intelligence, and the myriad ways that it can enhance the operational capabilities of a camera network.
Artificial Intelligence is the element of computer science behind teaching computers to 'think', make assessments and generally perform tasks similar to a human. AI teaches a device to recognise and adapt to certain behaviours. This basically means that an AI camera is better equipped to perform routine tasks, as it has been given the ability to not only act as a 'dumb' recording device, but also to learn, make assessments and in a basic manner to 'think' about the images and video it records.
As such, cameras with inbuilt AI are capable of advanced functions such as vehicle and face detection, Licence Plate Recognition (LPR), people counting, missing object detection, traffic counting and more.
Such features make each camera in the network vastly more capable than a standard IP camera and opens up a world of possibilities for smart buildings and cities.
An AI camera records video footage the same as a conventional camera, then feeds the captured information through an analytic layer. Rather than just creating a live video stream of a space or event, the AI camera will – in real-time – be able to process millions of options for that footage and help people make fast, informed decisions based upon the information.
Further to this, an AI-powered camera can do much of the heavy lifting associated with monitoring cameras – that is, it reduces the burden on humans monitoring screens by filtering and analysing information, allowing much of a surveillance network to be automated.
It is a widely-recognised fact in the industry that human attention begins to wander after 20-30 minutes. Consider a security professional monitoring screens all day – the more automation the system can provide, the less chance there is of that individual missing something.
An AI camera can be set to send an alert when a unrecognised person or object moves into a field of view, or if something goes missing from it. Analysis of video footage can assess patterns of movement in a crowded space, and alert security services in the case of anomalous behaviour – say for example a person is moving the wrong way through a crowd exiting a performance space or on a one-way running track.
Equally, AI-powered cameras have greater operational ability in certain weather conditions. In cases where heavy rain or snow are affecting a camera's functionality, a smart AI camera is much more likely to recognise certain features in the field of view, and able to run literally hundreds of thousands of potential scenarios through its processor to come up with an accurate assessment – whereas an individual watching a vision-impaired camera is likely to miss those same visual cues.
Facial recognition is one such feature that is enhanced by AI cameras. It is quickly becoming an accepted method for biometric access, with cameras now given the ability to scan, recognise and allow access to a building or other space. Airport security lines can be made more efficient with this technology, public bars and clubs can use it to detect banned individuals and help curb antisocial behaviour, as well as promoting sensible gambling habits. Facial recognition has a host of benefits in a modern smart building.
AI cameras can even detect a wide range of guns and other deadly weapons and are therefore able to play a very important role in law enforcement.
LPR is another effective area being greatly enhanced by AI-powered cameras. An LPR camera can help with traffic flow and control, speed up access to car parks, reduce wait times in drive-through restaurants and help with automatic tolling. Again, cameras that have the ability to 'learn' can be fed information for processing in real-time and make decisions instantaneously.
AI cameras have a host of functions that will enhance many aspects of modern life. The smart cities of the future will rely on technology such as this to increase security operations, speed up access control, improve traffic flow and a whole lot more. AI cameras are an essential element of planning for that future, and all the benefits that come with it.